The Woodlands Janitorial Group is dominating the industrial & manufacturing markets and can guarantee a clean, safe and healthy environment for its employees. We can create a customized cleaning plan to accommodate all needs of any facility. There are many crucial factors when making a decision on which janitorial cleaning services to hire, but three are crucial.
Safety is number one. We train our employees to be aware of their surroundings at all times, follow the safety protocols of both The Woodlands Janitorial Group and the company in which they are servicing.
The second crucial factor is hiring the right person for your facility. At The Woodlands Janitorial Group, prior to being hired, all applicants take a nationwide criminal background check. When cleared, one of our experienced hiring managers will interview the individual and then train them at the The Woodlands Janitorial Group Training Facility. Finally, the employee is given specific instruction alongside a manager at your location.
Quality is the last crucial factor. We assigned a manager to your facility that will make frequent visits to inspect the work that is being done by our cleaning staff. Some visits are announced, some are not. All of this is to ensure that you are receiving the service that you deserve.
A Way to Reduce Costs
Cost-savings is a good enough reason for businesses to begin outsourcing commercial cleaning. In-house employees are very expensive to upkeep with benefits such as payroll tax, benefits (insurance, 401(k), vacation, and sick pay, etc.). Outsourcing janitorial services can help you control operating costs and establish a budget, freeing up capital that can be invested in your core business at a higher rate of return.
$60 billion* is lost each year from illnesses due to lack of facility sanitation! No only is sanitation an issue, but onsite injuries caused by unkept equipment costs businesses $170 billion annually. However, those facilities that focus on safety and health enjoy diminished liability claims. 
Our Services
Vacuum all carpeted surfaces
Empty trash and replace liners
Dust all tables, ledges, and other office equipment
Clean and sanitize bathrooms, including toilets, urinals, sinks, doors, partitions
Refill bathroom paper and soap supplies
Clean glass
Perform additional spot cleaning as required
Sweep & mop hard surface and More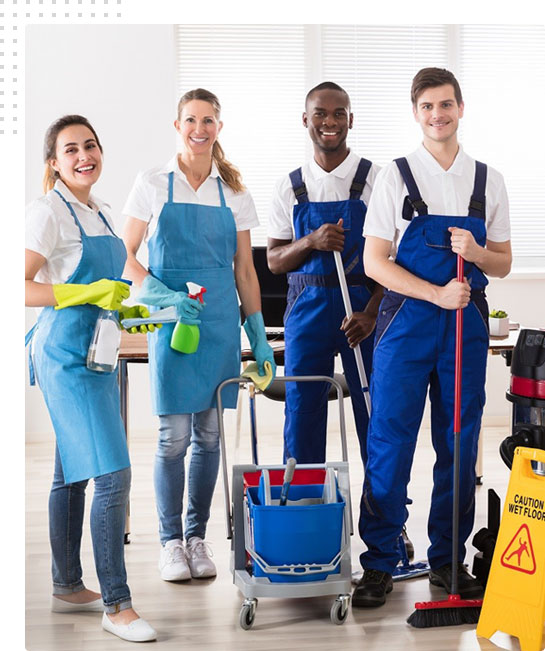 You Can Contact Us

Get a Quote